Digital signage displays are taking over from poster slots and neon signs in restaurants. And rightly so, because they are easy and fast marketing tools. Product advertising is handy, and anyone can update their menus and price lists easily.
The biggest strength of digital displays is their real-time performance. No matter how busy the restaurant is, quick changes are always possible. Creating ready-made advertising and price list templates for the info screens will allow customised content to appear in just a few clicks.
Active and purposeful use of displays also supports the business, and even helps in getting more money coming in. We've put together a four-point list of tips to help you make the most of the digital signage displays in a restaurant.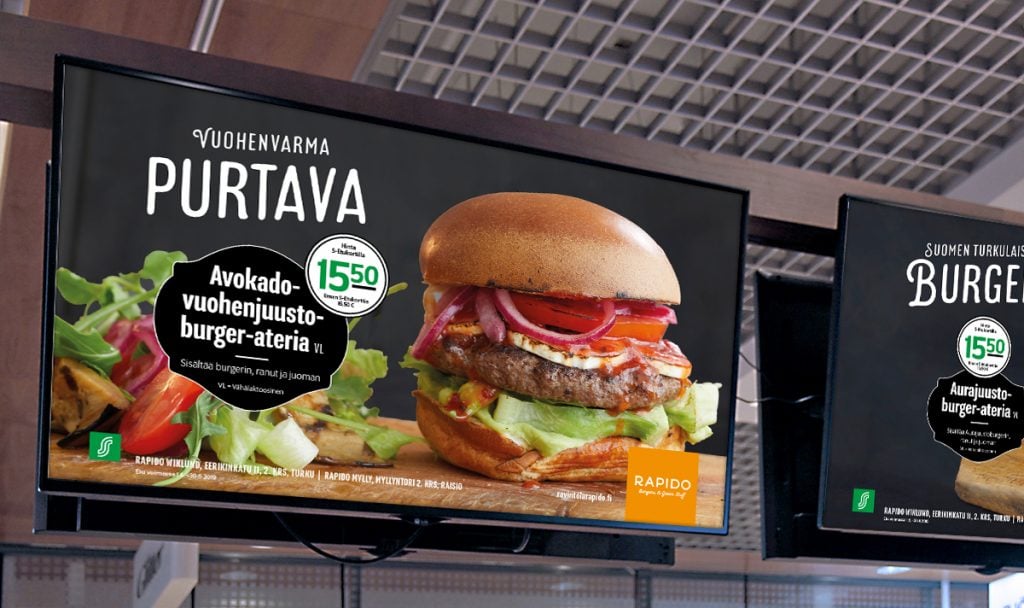 Speed up your sales with product marketing
When your products are on display, your customers know that they exist and can buy them. Add targeted, promotional product advertising to digital displays.
Make easy extra sales with clear product promotions, such as desserts and drinks. Manage wastage by highlighting lower-selling products or direct your sales by promoting higher-margin products..
Take advantage of the suddenly changing weather – promoting ice cream or refreshing smoothies on hot summer days is sure to spark your customers' minds!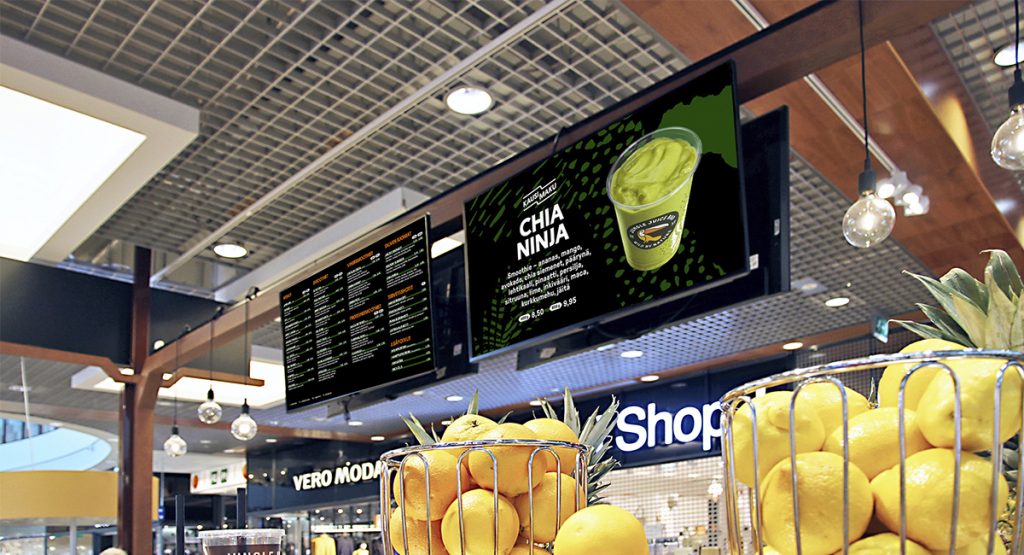 Stimulate visions and please the taste buds
When products have stories behind them, they are always more interesting. Who wouldn't be interested in where the food on the plate comes from or how it ended up there? Ask if you can use the promotional materials from your raw materials and product suppliers.
A bubbling and sparkly brewery drink ad, or the good mood images highlighting the quality of the local producer, convinces people and makes them interested. At the same time, you get some refreshing variation on your content lists.
Or what if you took it a step further and showed a live picture of the dishes being prepared in the kitchen? Of course, an edited video will also work if the performance pressure is too much for the chef.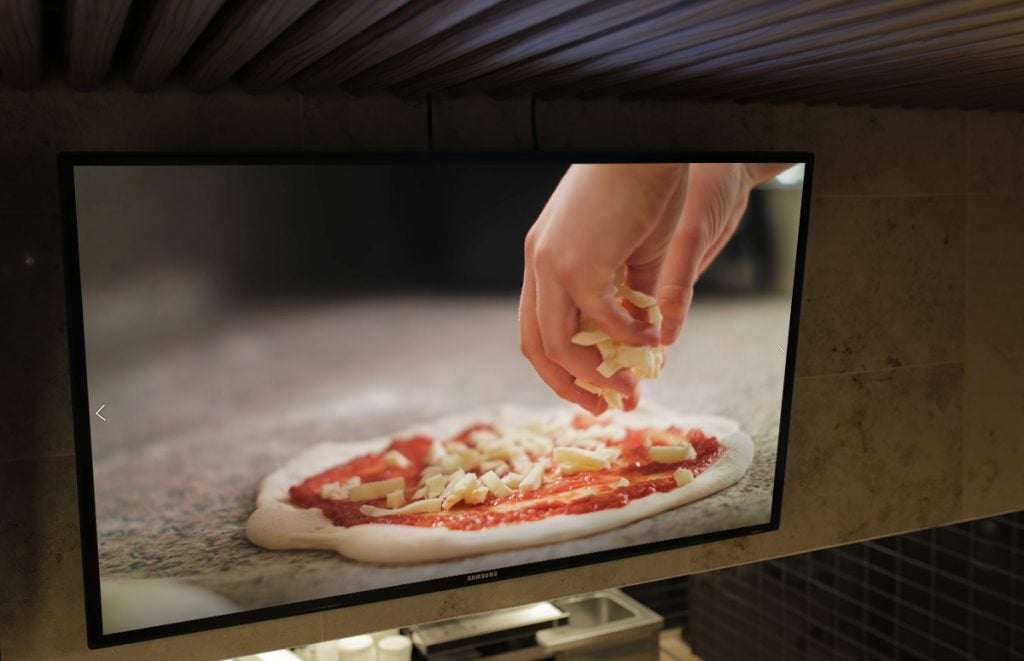 Use the displays to attract customers
A window display with attractive content acts as a tireless promoter luring people into your restaurant. The information display can also be used to inform the passers-by of the restaurant.
A window display can be used to showcase products, the menu or even upcoming events. So why not make an impression on your potential customers and leave a memory imprint in the minds of passers-by?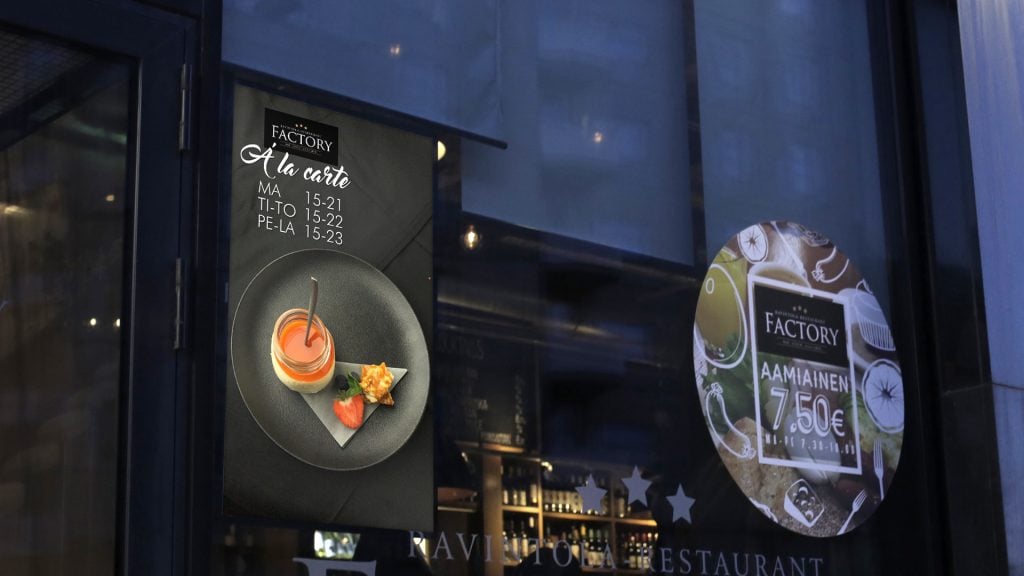 Plan and update your contents actively
Last but not least is the regular update of the advertising screens. Updating content should be part of your daily routine. If the content does not change, the screens will not add value to your customers or your business.
Even small changes in layouts, images, or colours can sometimes do wonders, and the content looks fresh even to your loyal customers.
It is a good idea to plan and schedule the materials in advance as much as possible. For example, lunch lists can be pre-populated, or you can make use of the lists updated on the website through RSS feeds. This saves staff time for other tasks.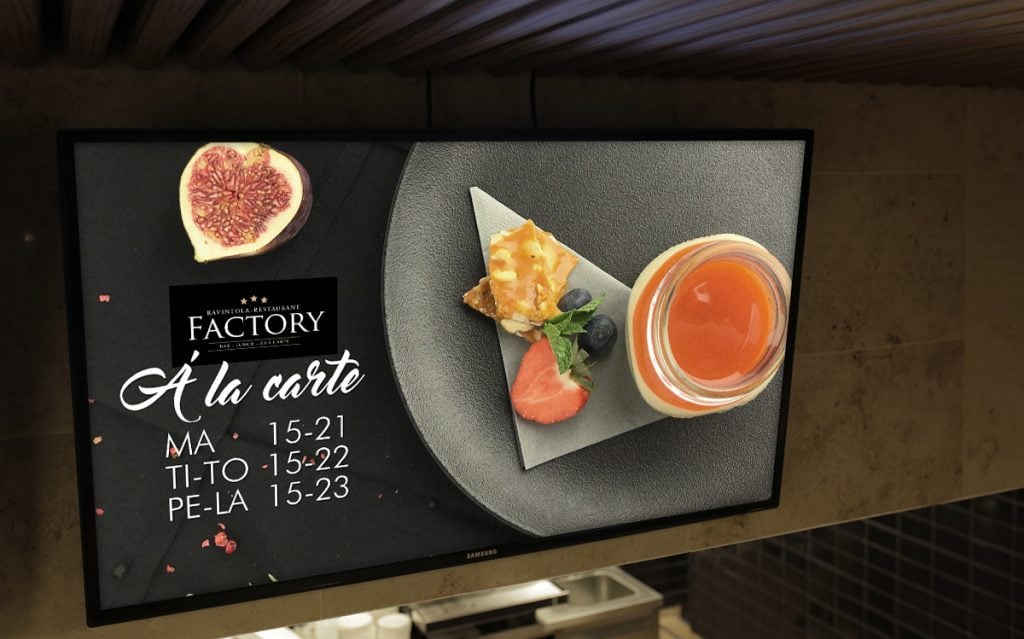 It is also worthwhile to desynchronise the display times for different content. At lunchtime, the screens can only show lunch options and in the evening the á la carte dishes.
Good planning is the basis of everything, so foresight and careful groundwork will help you achieve better results.
You might also like:
Digital Signage at Restaurant Factory
Digital Signage – A Marketer's Best Friend